I overuse exclamation points… to the extreme. So much so that I once addressed an envelope and accidentally placed an exclamation point after the zip code. Years later I had a boss come to me and ask me to start using periods more frequently when writing emails. She wasn't wrong, but it still felt weird to that hear about myself. Was I too excited? Was I too bubbly or happy? Not "business-y" enough? I wasn't sure. I guess I just figured that I wanted everyone to be able to contextually understand me and an exclamation point was the best way to get that point across. Nevertheless, I began using more periods when drafting business emails. Her small request allowed me the space to still be me, but also to develop a level of maturity and growth.
Because of my adoration of exclamation points, whenever I see them used in the Bible, I kind of squeal with excitement. The Bible is packed full of sentences that end in boring old periods but when there is an exclamation point, I know there is something powerful there. In my searching through the Word I have only found a handful of exclamation points. Total.
In Ezra 10, the Israelites were admitting that they had sinned. They had married the foreign wives that they were specifically instructed to NOT marry. As Ezra prayed and confessed to God the sins of the people, he wept and fell face down, as others joined him. They lamented their actions and made a plan. Then decided it was time to GET UP! Notice that pretty little exclamation point!
They were admitting that this matter was their responsibility and they were there to support each other. The charge to be strong and take action is twofold. We aren't called to only demonstrate strength. We are also called to take action.
Right now, in this uncertain season of immense changes, we are to be strong and take action. Action can look different to every person we know. For some of us our action is staying home and protecting our family and loved ones. For others our action is continuing to work at our essential jobs, serving the community by providing healthcare, food, or housing. Whatever action may look like in your life, we are called to be strong and take action.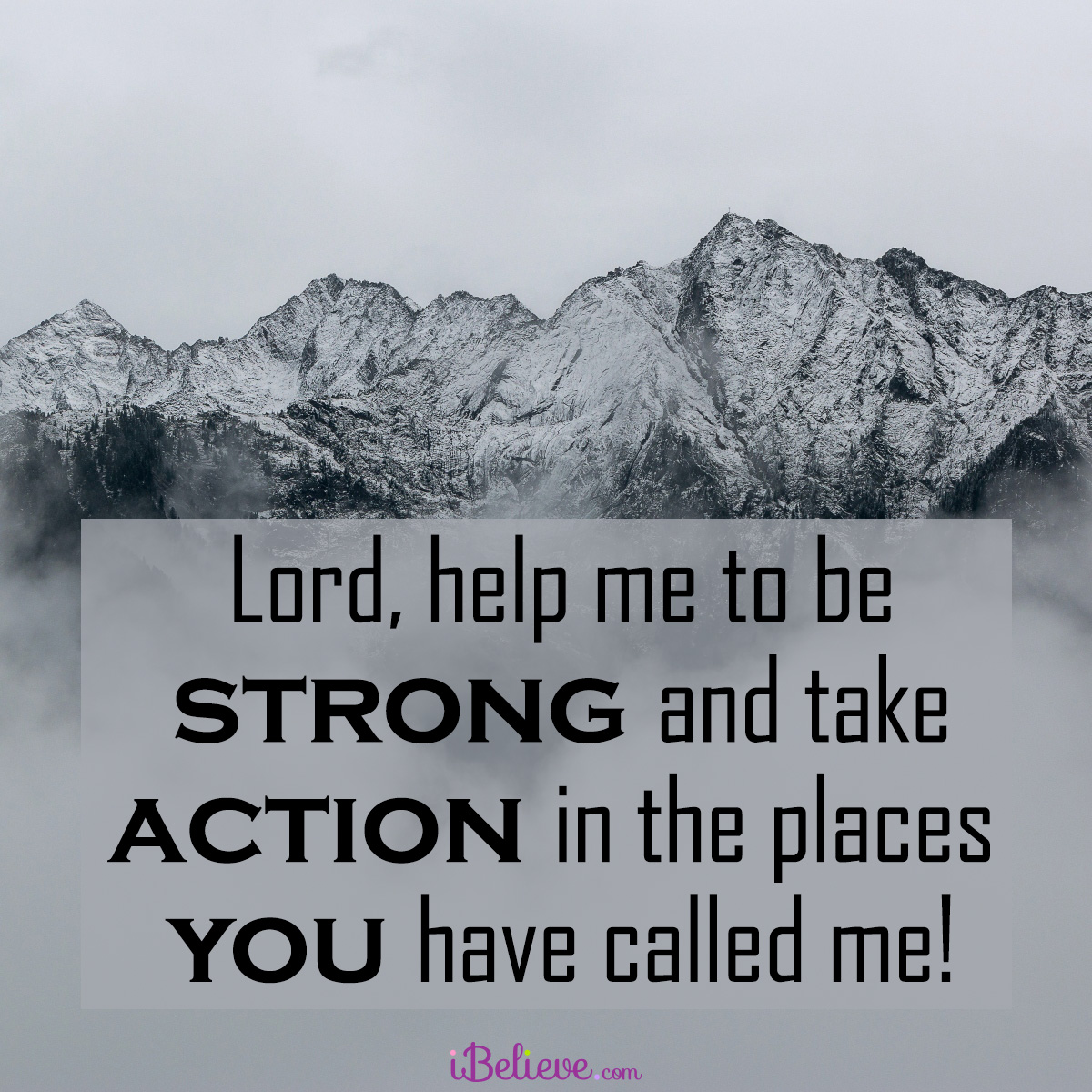 Let's pray now, to be men and women who are, in God's strength, strong, taking action in the places he calls us:
Thank you, Lord, for equipping me with your strength; a strength I don't deserve and could never be capable of on my own. Thank you for carrying me when I am weak. Thank you for holding my hand when I am too scared to take the next step. Thank you for lighting the way in the bleak darkness of my reality. Thank you for the instructions to be strong AND take action. I know that these two go hand in hand. I know that I must not only be strong, but I must also take action.
Thank you for the strength that motivates us into action. I know that without action, I am simply stuck in a holding period. I know that without action, I am simply stuck. Lord, I pray to be like Ezra. I know that I am sinful. I pray for the audacity to confess boldly, repeat loudly, and lament intensely in front of others. I want to be strong and take action. I refuse to live in a holding period.
I pray that you equip me with your strength that can carry me into action, and I pray that I can use a whole lot of exclamation points to describe how amazing You are. Thank you, Lord, for designing me to be exactly who I am. Thank you for Your strength that leads to action, especially in such uncertain times. Amen.
Originally featured on iBelieve.com and Crosswalk.com via Your Daily Prayer at https://www.crosswalk.com/devotionals/your-daily-prayer/your-daily-prayer-july-16.html?utm_source=Your%20Daily%20Prayer&utm_campaign=Your%20Daily%20Prayer%20-%20Crosswalk.com&utm_medium=email&utm_content=3462822&bcid=8b7310a2a45311150f9a39552ba1f061&recip=545862120%20

(Visited 593 times, 1 visits today)